Pflugerville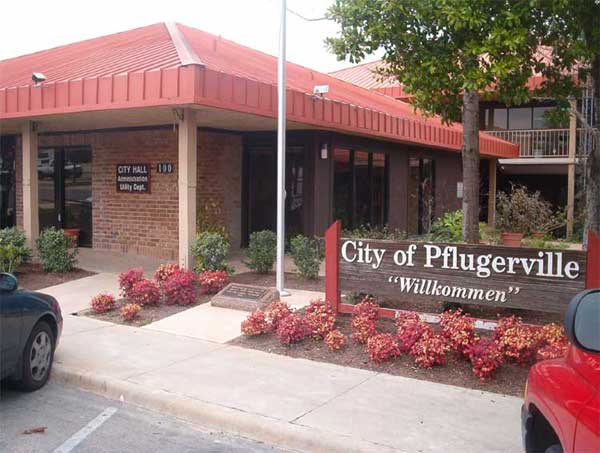 PHOTO BY HEPHAESTOS - Info Courtesy of Austin Relocation Guide
Pflugerville, Texas City Hall.  Pflugerville is located between Austin and Round Rock.
Strategically located between Austin and Round Rock, the once-sleepy German community of Pflugerville, Texas is one of the fastest growing areas in the metro Austin area – offering an educated and varied workforce from northern Travis and southern Williamson counties and a great place to live.  Pflugerville, Texas is about 14 miles northeast of Austin, Texas on FM1825.  This city of approximately 46, 936 is divided between Travis and Williamson counties.  Pflugerville's population has grown by about 20,000 since 2000. 
The region offers a variety of housing, recreational facilities and transportation options for businesses and employees, as well as easy access to SH 130 and SH 45, which mean faster commute times for those who work in downtown Austin.  Recent developments have included a Wal-Mart Supercenter and the potential for future grow looks promising.
The Pflugerville Independent School District covers 100 square miles, with several campuses achieving the coveted Recognized performance rating by the Texas Education Agency based on academics and graduation statistics. Residents agree that despite the explosion of growth the community has experienced as the result of high-tech industries settling in the area, the glue that binds them together as a community is the interest in the education of Pflugerville's youngest residents. Like many small communities, life here revolves around the schools.
With a strong sense of its German heritage, the Pflugerville, Texas community sponsors several family-oriented activities and festivals throughout the year, such as the local Deutchen Pfest, golf tournaments, bike rodeo, and Halloween and Christmas festivals. It is this charming hometown feeling and friendly, neighborliness that people who settle here find the living more "pfun" in Pflugerville.
History of Pflugerville
Pflugerville was first settled in 1849 by Henry Pfluger, Sr.  Pfluger was a once wealthy farmer from Germany who had fallen on hard times in the Prussian War.  He bought several acres and established a farm on the land that would one day become Pflugerville. Pfluger and his family raised corn, rye, wheat, beans, sugar cane, and sweet potatoes.  A true town did not begin to develop in the area until after the Civil War.  By the 1890s, 250 people lived in the area and a general store was established.  Pflugerville developed slowly during the twentieth century, but has grown considerably since 2000.
Pflugerville, Texas retains a small town feel.  As part of the Austin, Texas, Round Rock, San Marcos Metropolitan area it is likely to experience continued growth. 
Pflugerville Properties
$328,834
Average Listing Price
Find a Home in Pflugerville
All information deemed to be reliable but not guaranteed and should be independently verified. All properties are subject to prior sale, change, or withdrawal. All data is provided AS IS and with all faults. This information is provided for consumers' personal, non-commercial use and may not be used for any purpose other than to identify prospective properties consumers may be interested in purchasing.
© 2022 Austin Board of REALTORS®. All rights reserved.
___________________________________________________________________________________________________________

Any home sales data appearing on this page is obtained from public record sources (or estimates, for non-disclosure states) as provided by OnBoard, LLC and does not comprise an appraisal or a Comparative Market Analysis (CMA). This information should not be used to replace a professional appraisal nor to determine the price of a particular property.
---
Highland Lakes listings last updated Jan 26, 2022 10:18:am.
---
Central Texas listings last updated Jan 26, 2022 10:13:am.